We've been in a pandemic, and now we can actually go out and explore but financially, it hasn't been the best time for us.
So how can you have fun in London, on a budget? WELL there's actually some great FREE things you can do this month.
You can climb the mound and see amazing views over Oxford Street and beyond AND you can go INSIDE the mound and see the current light installation. Lightfield, led by British/American artist, Anthony James.
It's an amazing, calming and captivating installation.
"Lightfield consists of cubes, connected via ethernet cables, which will simulate the interconnected root structure of a birch tree forest.
The cubes all communicate with one another creating a large canvas for light to dance around, which will allow the light to follow visitors as they walk through Lightfield."
I highly recommend visiting.
The Welcome Collection – On Happiness
Inside this fantastic gallery from now until February 2022 is the On Happiness season.
"On Happiness is a season of free events, activities and two exhibitions – Joy and Tranquillity – which celebrate the complexity of positive emotions and invite you to explore the big questions."
The two exhibitions are full of engaging multimedia installations and artwork exploring emotions and physical activity. A really fun exhibition and perfect for a wander around the rest of the space, they have a cafe too.
Generally, just a fun, educational and interesting free space to explore.
They have a number of free exhibition spaces, and some you can pay for. But the free exhibitions are enough to keep you busy.
Image courtesy of Art Fund.
An awesome new Canteen space in the heart of Greenwich.  A vibrant, architecturally significant destination by SelgasCano. With a mezzanine and outdoor terrace. Enjoy access to adjacent Design District facilities like the rooftop basketball court and multimedia suites.  One bar and six independent vendors serving up food from the world's streets. Take it to go, or make time to dine on the terrace or mezzanine oasis.
I used to live in Poplar and this was very close by. It's a small but beautiful rooftop garden with a restaurant at one end.
It's totally free to go up there and a nice place to take a coffee and wander around. Great spot for a photo or two, but does have open areas above so it can get wet/cold.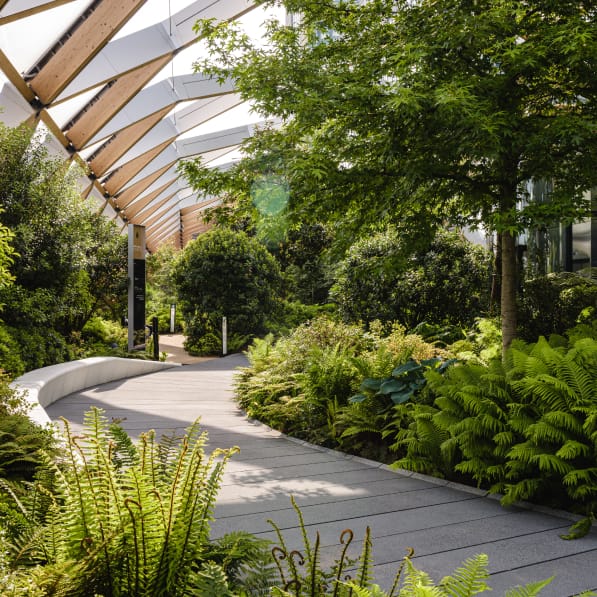 Image courtesy of CanaryWharf.com
An incredible immersive experience where you can see how to grow plants inside with interactive technology.
You can harvest your own veg and herbs which will then be used on a pizza made by Plant-Based Pizza experts Purezza.
They also make Gluten Free pizzas so everyone is welcome!

Let me know on Instagram if you go and visit any of these from this blog post!